Herbal picking method: When the harm is heavy, 20% galantimonin or Other pyrethrin EC may be used for 10-20 ml/mu, or 50% chlorbenazolone EC may be 20-30 ml/mu, or 50 % Carbaryl wettable powder 30-50 g/mu water alternately sprayed 40 kg.
The yellow plate entrapment method: Using the yellowing property of cotton aphids, yellow plates were trapped and killed outside the cotton field (on the field ridge). Method: Use 50 cm 30 cm yellow cardboard jacket transparent plastic, the surface coated with butter (oil or vaseline, etc.), placed 30 cm above the plant. The yellow plate attracts more and more concentrated in the edge of the viscose board, the middle of the board is less, so the same area, the viscose board to grow a strip of insect trapping effect better than the square.
Apply the main stem method: When the seedling stage cotton seedlings occur, use 40% omethoate to add water to the liquid 1:5-10 times, smear on the side of the red and green cotton stalk, smear length 2-5 Centimeters, not ring.
Drop heart method: When cotton seedlings damage roll leaf rate of 5%, use omethoate 1:200-fold solution to drop 2-3 drops of liquid drug on each cotton seedling growth point. Method: Remove the spinner head of the backpack type hand pressure sprayer, wrap it with 3 layers of gauze, and unscrew the switch by 1/3 after adding the liquid medicine to the medicine box.
Toxic soil fumigation method: During the middle and late stages of cotton growth, when the leaf rolling rate reaches 10% to 15%, 80% of dichlorvos EC is used per mu, 200 kg of dichlorvos per acre, 4 kg of water is diluted, and 20 kg of fine sand is mixed. Late ditch into the cotton field.
Urine washing mixture method: 500 grams of urea, washing powder (neutral) 200 grams, add 100 kg of water and stir to mix "urine washing mixture." After the detergent is completely dissolved, it is evenly sprayed on both sides of the leaf surface. However, the "urine-washing agent" should be used immediately to prevent urea volatilization failure.
Concealed application methods: Hemp seedlings occur in heavier cotton fields. Before pouring water, furrows are applied at 3% carbofuran 2-3 kg/mu, or 15% iron extinction grams (aldicarb) 350 g/mu. It is required that the ditch be separated from the cotton plant by 10-15 cm and the depth of the ditch is 10 cm. After the application, the soil shall be covered with water.


Seed & grain cleaning/ processing plant is a whole set production line made up of different machines. Usually, the seed grain cleaning processing plant includes equipment from seed pre-cleaning, fine cleaning, until seed coating, packing.
Grain seed harvested from ground contains much impurity as dust, straw, husk, stems, lumps, stones. To increase grain seeds market value, the farmers/distributors need clean grain seeds before sell. Our grain cleaning plant offers solution to effectively remove above impurity. Farm equipment as seed huller, pre-cleaner, seed cleaner & grader, destoner will do the job. The huller/de-awner removes seeds' surface husk / awn. After then, seed cleaner & grader will remove the dust, husk, smashed stems by air suction cleaning. Meanwhile, it will remove the oversize and undersize impurity by sieve grading. After air screen cleaning, the destoner will separate the stones, lumps, glass and other heavy impurity. To remove the stones and clods, we also have magnetic separator, it is used to remove the magnetic clods and other magnetic impurity. After grain being cleaned by above procedures, customers normally add gravity separator to remove bad, immature, eaten, sicken seeds. Gravity Separator will help to find the healthy seeds. In order to improve the seeds germination rate, seeds coating machine is essential. Seed Treater will coat the chemical, fertilizer film on seeds' surface. The chemical will protect the seeds underground from worm's eaten and prevent diseases. The fertilizer will offer rich nutrition during seeds budding stage. Finally the cleaned grain/ seeds are being weighted and packed into bags.
Above is typical grain seed cleaning, processing procedure introduction. For different customers' demands, raw material requirements, we will customize the specific suitable plant design. For example, if clients clean beans, we will recommend extra Bean Polishing Machine to remove soil/dust on bean surface. If client require a high cleaning rate, the color sorter, hands picking belt will be added. We provide customized plant solutions basing on different cleaning situation.
Up to now, we have clients over 100 countries, and we built plants over 20 countries. We have engineer oversea on -site installation and training service. Our goal is to make sure the Grain Seed Cleaning Plant run well and client master the operation tips. It is our aim to help clients get satisfied grain seed cleaning effect.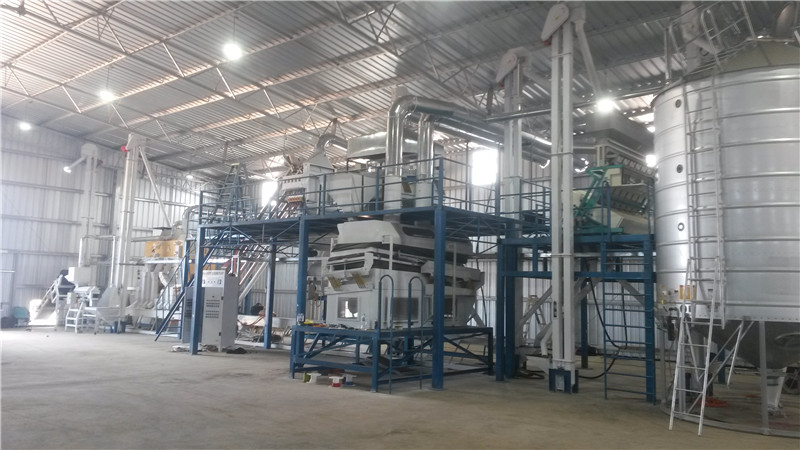 Seed & Grain Cleaning / Processing Plant
Seed Cleaning Plant,Grain Seed Cleaning Plant,Grain Procesing Plant,Grain Cleaning Plant
SHIJIAZHUANG SYNMEC INTERNATIONAL TRADING LIMITED , https://www.seedgraincleaner.com